An Import Export Code (IEC) is a 10 digit number. It is required by anyone undertaking the export and import of goods in the country. It is issued by the Director General of Foreign Trade (DGFT), Department of Commerce. The process to obtain IEC is simple and can be done online. The list of documents required for IEC is much smaller than the list of documents required for GST Registration.
It is required by: the customs; financial institutions for international transactions; the bank requires Import Export Code to process foreign currency deposits. It is valid for lifetime. There is little to no compliance. Also, there is no maintenance fee involved.
It is important to point out that Export Import Code (EXIM code) is different from IEC. EXIM is not applicable to Indian businessmen. It is only required when a person is exporting or importing goods from Nepal. Hence, it is issued by the Government of Nepal.
The documents required for IEC –
Bank Certificate as per ANF-2A / Cancelled Cheque – The cancelled cheque must bear the entity's pre-printed name
Address Proof of the firm – Documents such as Sale deed (if the premises are owned), rent agreement/lease deed (if the premises are rented), electricity/telephone bill, Mobile postpaid bill, Memorandum of Undertaking (MoU) or Partnership deed can be produced as address proof.
The address proof might not be in the name of the firm. This happens when the premises have been rented. In this case, a No Objection Certificate (NOC) by the owner of the premises in favor of the firm is to be submitted along with the address proof. It has to be submitted as a single PDF document.
Proprietors/ Proprietorship Firm can submit documents such as Aadhar Card, Passport or Voter Id as address proof
Documents should uploaded only in the following formats – PDF or JPEG under 5 MB.
The details filled in the application should match the details in the documents uploaded.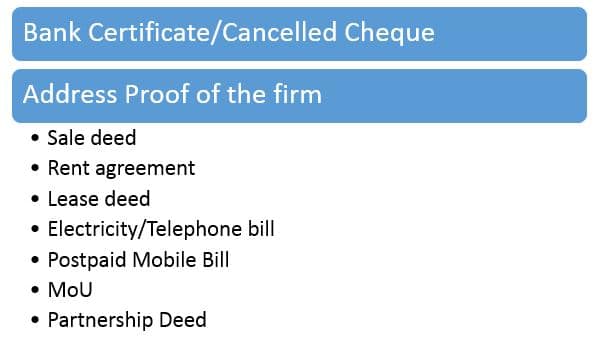 The format of the Bank certificate must be the following: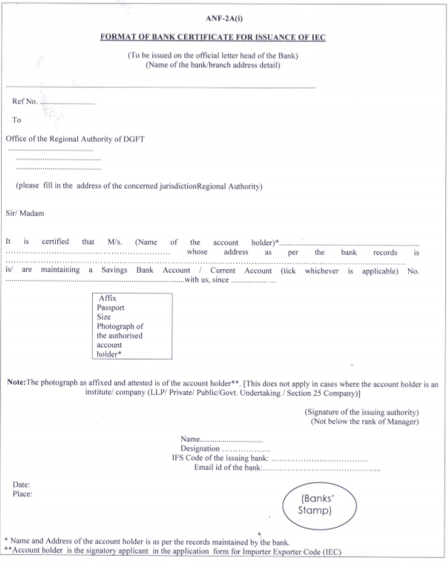 Conclusion
The IEC is a necessity for anyone who undertakes a business of import and export of goods. The process is comparatively simple. At Registration Arena, we help businessmen and companies file the above mentioned list of documents required for IEC and obtain it hassle-free. Reach out to us for any assistance.