India's pharmaceutical sector is not only a flourishing business opportunity but also a critical pillar of global healthcare, known for its affordable drug, vaccine, and generic medicine production capabilities. Also, considering the increased focus on healthcare, entering the pharmaceutical industry is not just a commercial venture but a chance to contribute significantly to public well-being. In this blog, we will learn how to start a pharmaceutical company along with its different types. Additionally, we will discuss and analyze the scope of the Indian pharmaceutical industry. 
What is a Pharmaceutical Company
A pharmaceutical company is an organization that is engaged in the – 
Development;

Manufacturing;

Selling;

Distribution; 

And marketing
of pharmaceutical products like drugs, medicines, vaccines, etc. These companies majorly invest their time and money in research and discovery of drugs and medicines used to cure different types of diseases. Therefore, healthcare providers like hospitals, nursing homes, doctors, etc. are dependent on pharmaceutical companies to provide medical treatment to patients. 
Some of the famous pharmaceutical companies in India include Sun Pharma, Glenmark, Cipla, Lupin, etc. 
Scope in the Indian Pharmaceutical Industry
The pharmaceutical sector in India has a broad and promising future on domestic as well as international levels. Major segments of the pharmaceutical industry in India include bulk drugs, Over-The-Counter (OTC) medicines, generic drugs, biosimilars and biologics, contract research and manufacturing, etc. With a population of approx 143 crores people, the market for pharmaceutical goods and medical services is extensive. In addition, factors like the rise in living standards of middle-class people and increasing awareness of healthcare contribute to the industry's growth. 
Further, India is a significant player in the global pharmaceutical sector, known for its ability to manufacture generic drugs at a low cost. This reputation puts Indian pharmaceutical companies in a good position to meet the demand for affordable medicines worldwide, especially in developing nations. According to Invest India (2023), the current value of the Indian pharmaceutical industry is $50 billion and it is expected to scale up to $65 billion by 2024 and $130 billion by 2030. 
Following are some other facts that highlight the vast scope of the Indian pharmaceutical industry – 
India exports pharmaceutical products to 200+ countries in the world. 

India is the leading manufacturer of vaccines and sources 70% of WHO's vaccines. 

The nation is the largest supplier of generic medicines, accounting for a 20% share on the global level. 

There are nearly 10,500 pharmaceutical manufacturing facilities in India, along with 3000+ companies. 

India achieved success in HIV treatment by providing access to the most affordable services. 
Incentives Provided by the Indian Government for Pharmaceutical Companies
To encourage the setting up of pharmaceutical businesses in India and ensure their growth, the government provides the following incentives – 
For greenfield and brownfield pharmaceuticals, 100% and 74% Foreign Direct Investment (FDI) is allowed under the automatic route respectively. 

Financial incentives to eligible businesses for bulk drug manufacturing under Product Linked Incentive (PLI) schemes 

Setting up Common Infrastructure Facilities (CIF) for bulk drug production to reduce manufacturing costs for companies

Launch of Pharmaceutical Technology Upgradation Assistance Scheme (PTUAS) for MSMEs to help them in upgrading technology. 
Types of Pharmaceutical Companies
Pharmaceutical companies can be divided into the following categories based on the type of activity they undertake –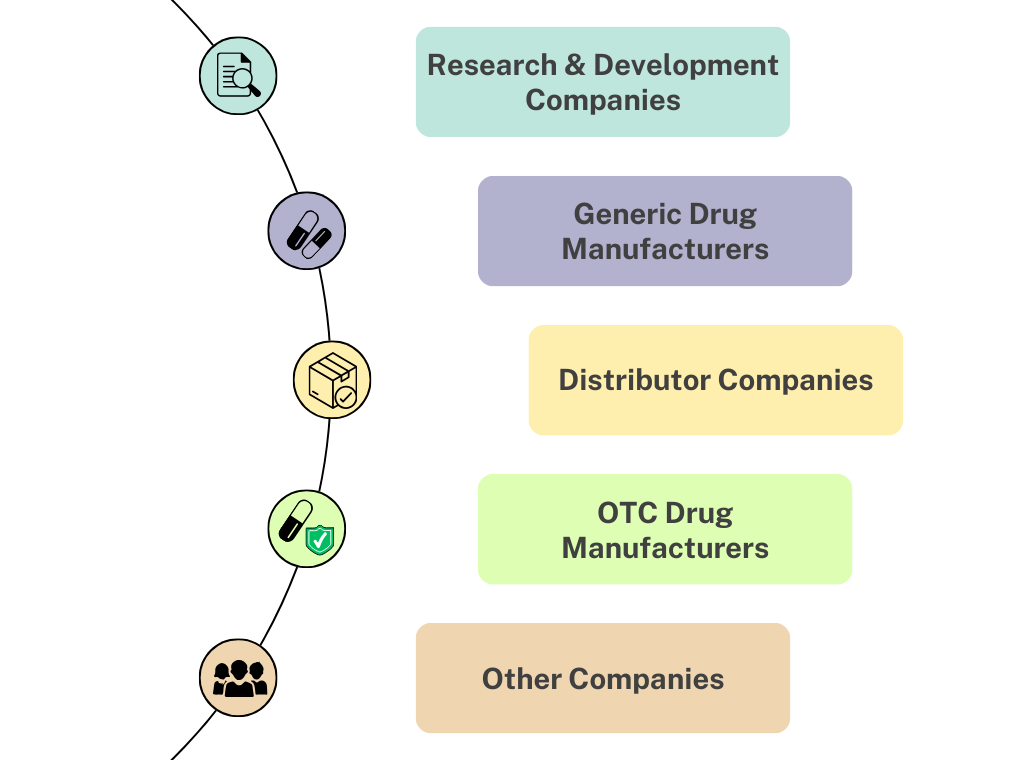 Research & Development Companies
These types of companies typically concentrate on creating new and innovative pharmaceuticals and bringing them to the market. In addition, such companies carry out clinical trials. They spend a lot of money on research to find new treatments. For example, Biocon Limited, Dr. Reddy's Laboratories, Zydus Lifesciences Limited, etc. 
Generic Drug Manufacturers
Generic drug manufacturers are companies that are engaged in the production of non-patented medications. In simple words, such companies produce medicines similar to those produced by famous brands. Although generic medicines are equivalent to branded medicines in terms of safety and efficacy, they are more affordable as compared to branded ones. 
Examples of generic drug manufacturers in India include Wockhardt Pharmaceuticals, Sandoz, Endo Pharmaceuticals, etc. 
Distributor Companies
These types of companies are experts in pharmaceutical product distribution and logistics. They make sure that medications are delivered effectively to pharmacies and healthcare facilities. For example, Jay Pharma, Meher Distributors Pvt Ltd, Dvijay Pharma Pvt Ltd, etc. 
OTC Drug Manufacturers
OTC or Over-the-counter drug manufacturing companies produce medicines or drugs that are available over-the-counter, i.e., without a prescription. It includes medicines for cough, cold, pain relief, etc. For example, Procter & Gamble, Dabur India Limited, Emami Limited, etc. 
Other Companies
Other types of pharmaceutical companies include Brand Developers, API Manufacturers, Biotechnology Companies, Contract Research Organizations (CROs), Contract Manufacturing Organizations (CMOs), Specialty Pharmaceutical Companies, Herbal and Neutraceutical Companies, etc. 
Business Plan for Starting a Pharmaceutical Company
Before proceeding forward and learning how to start a pharmaceutical company, it is necessary to understand the elements that you should include in the business plan. 
The following are the considerations that should be included in the business plan of a pharmaceutical company. 
Market Research
Before entering into any industry, it is necessary to understand and analyze the market dynamics like trends, growth opportunities, competitors' strategies, etc. Therefore, the first step that you need to take while formulating the business plan is to collect all the necessary information about the market and then analyze it.
Product Portfolio
Once you have collected and analyzed data about the different segments of the pharmaceutical industry, the next step is to decide what kind of pharmaceutical products you will deal in, e.g., generic drugs, vaccines, specialty drugs, etc. This will lead to the preparation of your product portfolio. 
Infrastructure and Other Facilities
If you are planning to start a manufacturing unit for producing pharmaceuticals, then you need the following assets and facilities – 
Land and Building 

Machinery 

Furniture 

Lab Equipments 

Heating, Ventilation, and Air Conditioning (HVAC) Unit 

Water Supply 

Electricity Supply, etc. 
Therefore, you need to make decisions regarding infrastructure as well, for example, whether you will buy land and building or take it on rent, what will be the arrangements for water and electricity supply to the factory, etc. 
Vendors and Distribution Channel
Another important consideration in the business plan of a pharmaceutical company is the distribution network. Plan the distribution network and establish relationships with vendors and medical representatives for marketing and selling your products. 
Funding
Decide the sources from which you will raise funds for meeting fixed and working capital requirements. A company can raise funds through the issue of shares, securities, ESOPs, etc. Additionally, it can obtain Foreign Direct Investment (FDI), loans from banks & financial institutions, investment from venture capitalists & angel investors, etc. 
Human Resources
Assess the need for human resources for different positions in the organization and accordingly, design the recruitment plan. For manufacturing medicines, you need to hire skilled and non-skilled workers, technicians, supervisors, etc. In addition, formulate the employee compensation and training strategy. 
Branding and Marketing
Branding includes various activities such as designing a memorable logo, choosing a unique name, creating a powerful tagline, etc. A strong brand in the pharmaceutical industry conveys safety, quality, and innovation. 
In addition, design the marketing strategy for your business which could include hoardings, digital marketing, healthcare conferences, etc. Further, decide the prices for your products which should be competitive enough to secure a sizeable share in the market.
Quality Control
In the pharmaceutical industry, it is very important to take quality control measures. It is advisable to set up a quality control and assurance department within the organization. It will monitor the adoption of quality control processes and standards, do testing and validation of the products, etc. 
Licenses and Registrations Required for Pharmaceutical Companies
Pharmaceutical companies in India are required to obtain the following licenses and registrations –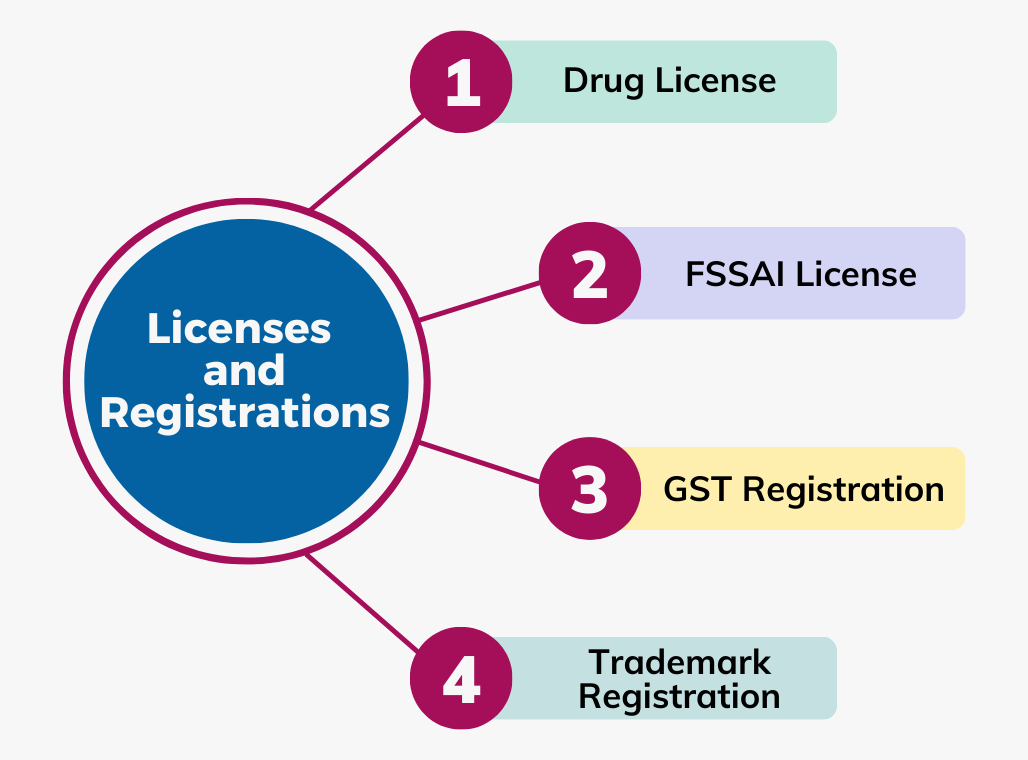 Drug License
A drug license is required for manufacturing, distributing, selling, and marketing pharmaceutical products in India. It is issued by the Central Drugs Standard Control Organization (CDSCO) and State Drugs Standards Control Organization (SDSCO). The following are the types of drug licenses – 
Manufacturing License
Those pharmaceutical companies that are engaged in manufacturing allopathic, ayurvedic, & homeopathic drugs or medicines, cosmetics, etc. shall obtain a manufacturing license. 
Sale License
The pharmaceutical companies that are engaged in selling drugs or medicines shall obtain a sale license. It is further divided into two categories – 
Wholesale Drug License – Issued to a wholesaler of medicines. 

Retail Drug License – Issued to persons engaged in the retail supply of medicines such as pharmacists. 
Other Licenses
Other drug licenses include loan licenses, import licenses, multi-drug licenses, etc. 
FSSAI License
Apart from drug licenses, pharmaceutical companies are also required to obtain the Food Safety and Standards Authority of India (FSSAI) license. Three types of licenses are issued by FSSAI: Basic Registration, State License, and Central License. The type of license that an organization is required to obtain depends on the turnover of the organization. 
Read More: Complete Guide on How to Get FSSAI License in India 
GST Registration
As pharmaceutical companies generally operate on a large scale, it is advisable to obtain Goods and Services Tax (GST) registration as well. GST registration is mandatory if the aggregate turnover of the business exceeds Rs. 10 lakhs in Special Category States and Rs. 20 lakhs in other states. If the business deals in goods only, then registration is required only if the turnover exceeds Rs. 40 lakhs. 
Additionally, GST registration becomes mandatory in case of inter-state supply (from one state to another) of goods and services.
Get in touch with our experts and apply for GST registration today! 
Trademark Registration
A trademark is a distinctive symbol, design, name, phrase, logo, color, shape, etc., used to distinguish one brand's identity from another brand offering similar products or services. While it's not mandatory to register a trademark, it is recommended to do so to safeguard it against unauthorized usage and potential infringement.
Therefore, pharmaceutical companies shall obtain trademark registration for their logo, brand color, design, etc. 
Read More: Trademark Registration Online in India 
Pharmaceutical Company Registration Process
Once you have developed a business plan considering all the requirements mentioned above, the next step is to register the company with the Ministry of Corporate Affairs (MCA).
You can either form a public limited company or a private limited company. It depends on the scale on which you want to operate and the control that you are willing to share. If you are planning to operate on a large scale with a huge investment, a public limited company is a better company as it can raise funds from the public and have an unlimited number of shareholders. 
On the other hand, a private limited company is like a closely held company and cannot raise funds from the public. Therefore, it is more suitable for small-to-medium-sized businesses. 
Nevertheless, the process of registration remains the same. The following are the steps that are required to be followed for company registration – 
Step 1: Application for Name Approval
Apply for Name Approval by submitting Part-A of the SPICE+ form on the MCA portal, providing two proposed company names. MCA will approve one out of the two names. 
Step 2: Application for DSC of Directors and Shareholders
For digital signing of forms, obtain Digital Signature Certificates (DSC) of directors and shareholders from certifying authorities of the government However, if the directors/shareholders already have DSC, then this step can be skipped. 
Step 3: Collection and Preparation of Documents
Collect and prepare all necessary company, director, and shareholder documents, including the Memorandum of Association (MOA) and Articles of Association (AOA), or e-MOA and e-AOA if shareholders are ≤ 7.
Step 4: Application for Registration
File the company incorporation application (Part B of SPICE+ form) and, if needed, apply for Director Identification Numbers (DIN) through the same form. Attach all required documents, complete associated forms, and pay the fees based on the authorized capital.
Step 5: Issue of Certificate of Incorporation
If the registration form is complete in all aspects along with the required documents, the Certificate of Incorporation containing the Corporate Identification Number (CIN), PAN, TAN, and GSTIN (if applied for) of the company will be issued. 
Note: Registration of a company in India requires certification from a Chartered Accountant, Company Secretary, or Cost Accountant. 
Registering a company is made easy! Join hundreds of satisfied entrepreneurs who have trusted our services. Contact us now! 
Conclusion
In conclusion, venturing into the pharmaceutical industry in India offers an exciting opportunity to blend innovation, healthcare advancement, and business acumen. With dedication, adherence to ethical standards, and a commitment to quality, your pharmaceutical venture can not only thrive but also play an important role in enhancing healthcare access and outcomes in India and beyond. 
We at Registration Arena are dedicated to assisting you in the registration and compliance of your business. Call us at +918600544422 or drop an email at support@registrationarena.com for more information.