How to check PAN card status?
Permanent Account Number (PAN) card is an important document in India. It is a unique identification code allotted to the taxpayers in the country. It features 10 characters of alpha-numeric code. PAN card is a necessity for any person earning a taxable income in India. It is an important document for an Indian Citizen. It is used as a proof of identity, date of birth and primarily for tax assessment purposes. Financial activities involving a heavy inflow/outflow of cash often require PAN card. Individuals, NRIs, Companies etc. can file application 49A for obtaining a PAN card while people who are not of Indian Origin file form 49AA. In India, The Income Tax Department issues the PAN card. After applying for a PAN card, it is quite easy to track its status. In this article, we provide a detailed answer to the question "How to check Pan card status?".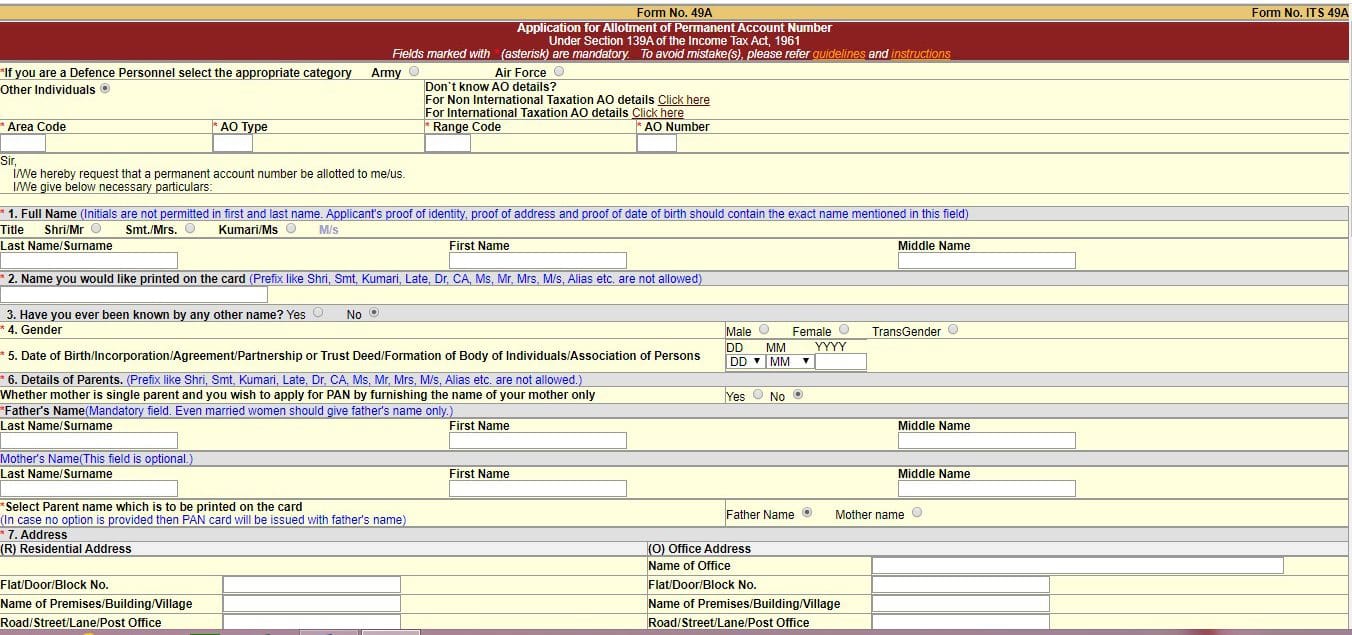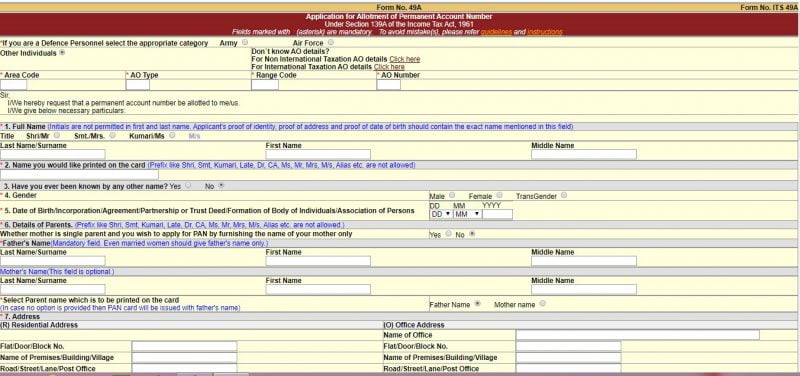 After filing a PAN card application, you need to be updated on the status; At which stage it currently is and how long it would take to reach you. Nowadays, we can track PAN card status online. Much like we track items through logistics. We can do this through offline and online methods as discussed below. PAN cards can take a lot of time to arrive but usually arrive within 15 to 21 working days. Moreover, PAN cards in their digital form can be downloaded after being processed. They can be used in their digital format. This facility is available  for individuals as well as for companies/organizations.
DigiLocker – store PAN card
DigiLocker is an application as well as a website launched by the government of India. It stores all the legal/official documents of a person. This service is provided by the Ministry of Electronics and Information Technology. It was launched by the government under its digital India campaign. It is a cloud based online service which can store all our documents/certificates such as Driving License, Aadhar Card, PAN Card, etc. in digital format. We can access those documents anytime and anywhere through the application/website. They are protected and can be accessed only by entering our credentials. The storage of digital copies of all our documents reduces the hassle and at the same time reduces the risk of losing the original documents.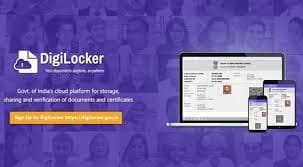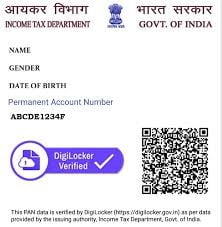 The above image (right) shows the format of a digital PAN card in the DigiLocker application.
What is Application/Acknowledgment number? Why do we need it to track PAN card status?
When the application for PAN card is filled, we receive a counterfoil receipt in return. The receipt may be physical if the application is filled out at a registration centre or digital if it is done through the online portals such as the NSDL or UTIITSL. This receipt contains a code which is known differently in different portals. It is mentioned on the counterfoil receipt. This receipt is provided at the time of filing the PAN card application online. It is a reference no. used to track the application status. This number is clearly mentioned on the receiving document (receipt).
When the application for a PAN card is filed online through sites like NSDL or UTIITSL you get different tracking numbers.
In the case of NSDL, It is known as Application/Acknowledgement no.
NSDL gives an acknowledgment no. beginning with the letter 'N' and containing 15 digits.
N – xxxxxxxxxxxxxxx
UTIITSL gives a coupon number beginning with the letter 'U' comprising 9 digits.
U – xxxxxxxxx
Methods to track PAN card status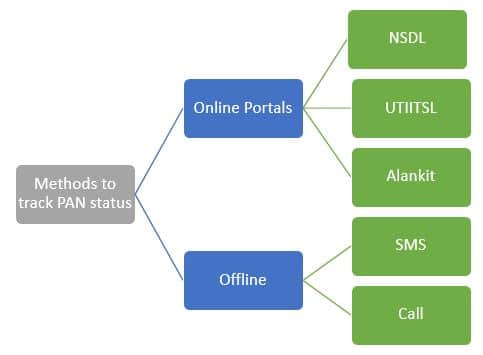 Offline Methods to track PAN card status
It is important to know that even though India is one of the highest users of the Internet with a record number of cellphones, there are people in the country who still have a hard time using the internet. The offline methods are of enormous help to such people since they offer the same level of convenience and do not require any Internet-related prior knowledge from the mobile phone user.
 SMS:
NSDL
We can track PAN card status through our mobile phones by sending an SMS. The format for the SMS is:
NSDLPAN along with the 15 digit acknowledgment number to 57575
UTIITSL
The UTIITSL website gives the option to receive the status on your phone as a SMS after we have checked the status online. You need to input your phone no. and the PAN card status is sent to the phone.
Phone Call:
NDSL
We can reach the TIN-NSDL call centre at 020-27218080 to enquire about the status of the PAN card. We will have to provide the acknowledgment no. over the phone.
UTIITSL
To track PAN status through Phone call, We can contact UTIITSL Customer care at +91 33 4080 2999 or 033 40802999.
Methods to track PAN Application status online
We can check PAN card status at the NSDL, UTIITS or Alankit website.
The National Securities Depository Limited is a securities depositry which holds securities like shares, bonds, etc. Though it is a mediator between investor and brokers, it has been appointed by the Income Tax Department to receive and process PAN applications. It does this through Tax Information Network (TIN) Facilitation Centres, Online services (NSDL TIN website) and PAN centres. Moreover, it offers other tax-related services such as online payment of taxes, tracking tax refund status, TDS information etc.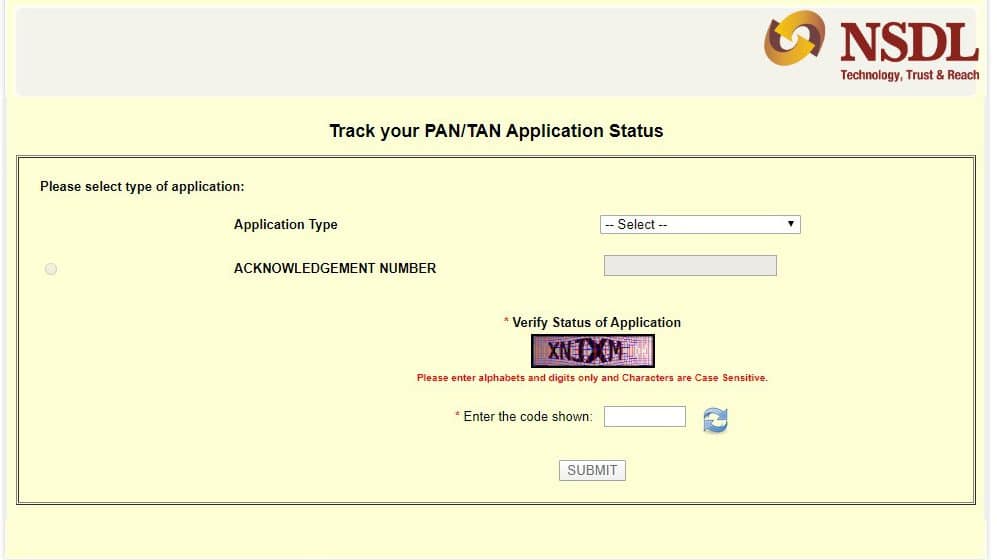 Through the NSDL website we can easily enquire about the PAN card status by following the steps below-
Steps:
Under Application Type, choose PAN – New/Change Request
Enter the acknowledgment no. as mentioned on the receipt. (The counterfoil receipt which contains the details of your PAN card application.)
Enter the captcha in the box
Click on Submit
The Income Tax Department website features the same as well: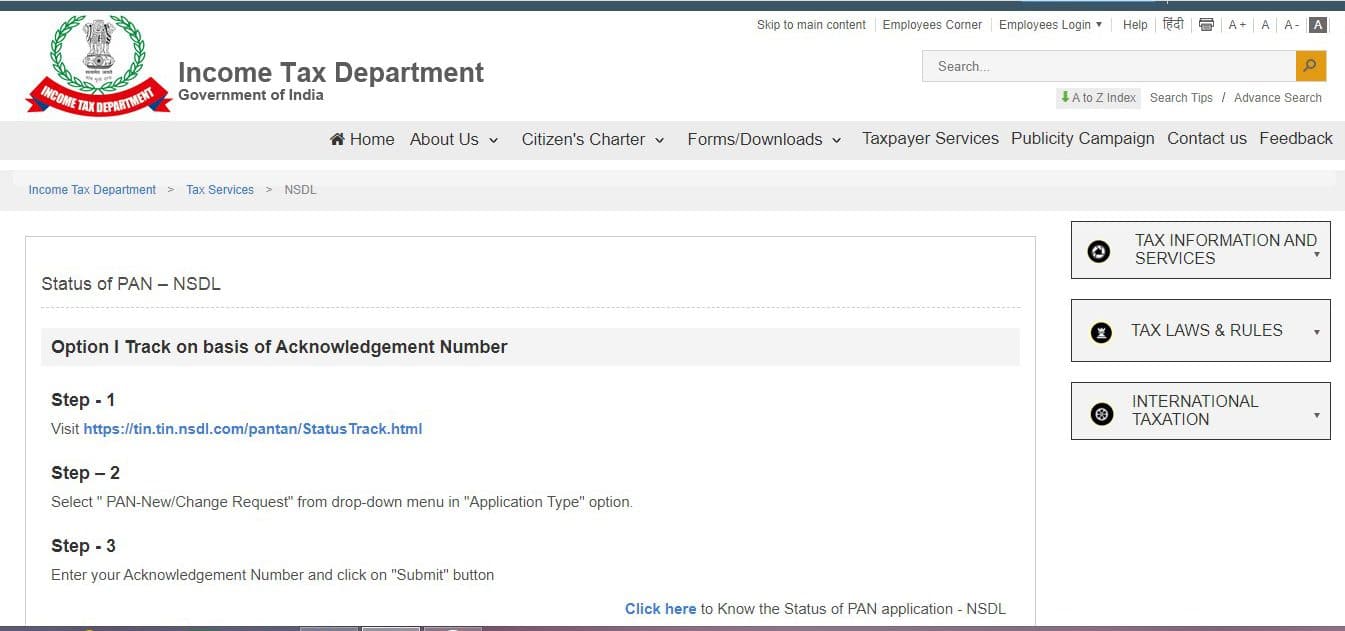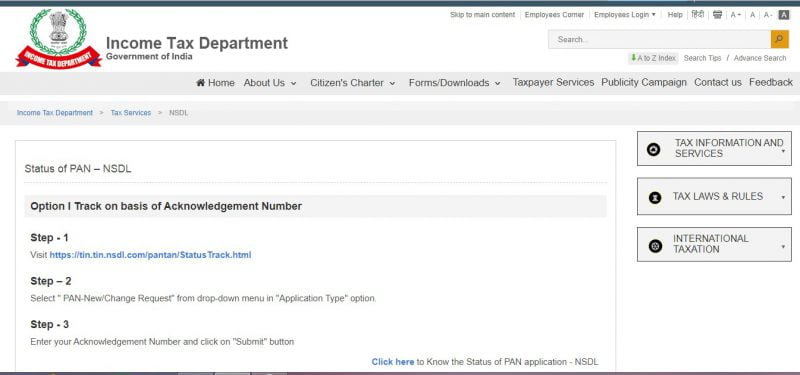 Unit Trust of India Infrastructure Technology and Services Limited is one of India's largest Financial Services Providers. It is a government owned company and as the name suggests it provides a variety of services ranging from Processing Medical Bills to serving investors of UTI schemes. With regard to PAN cards, we can apply for PAN cards through the UTIITSL website and also track its status, locate PAN application centers etc.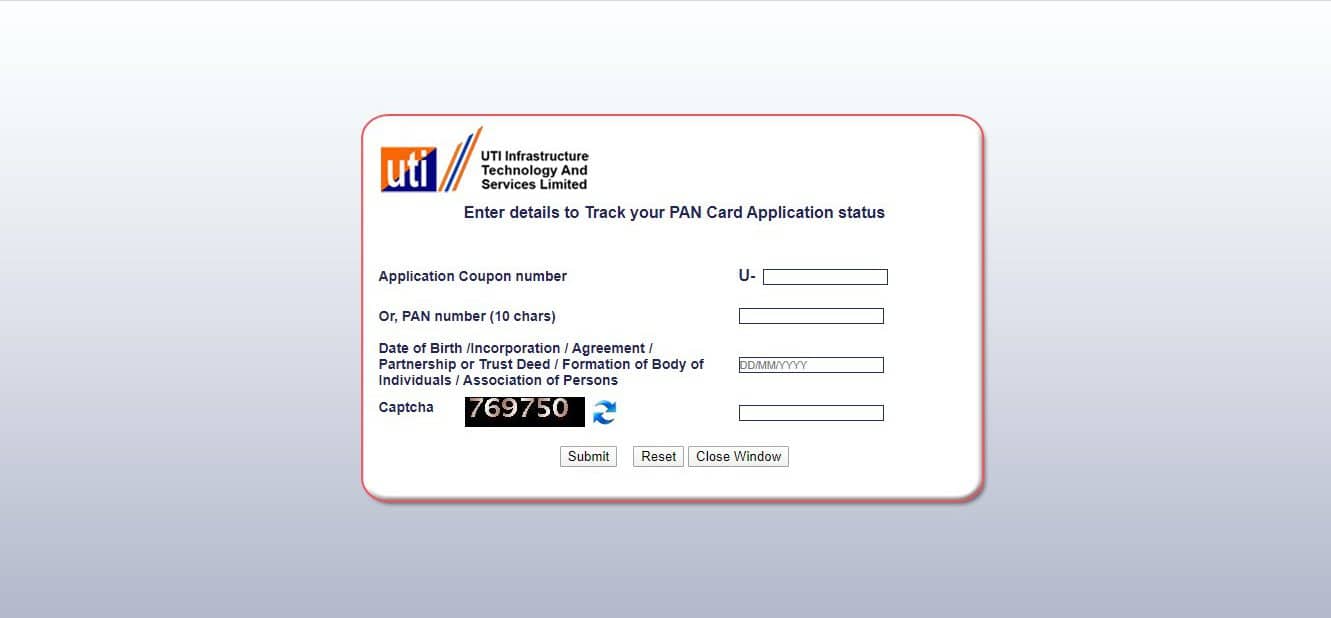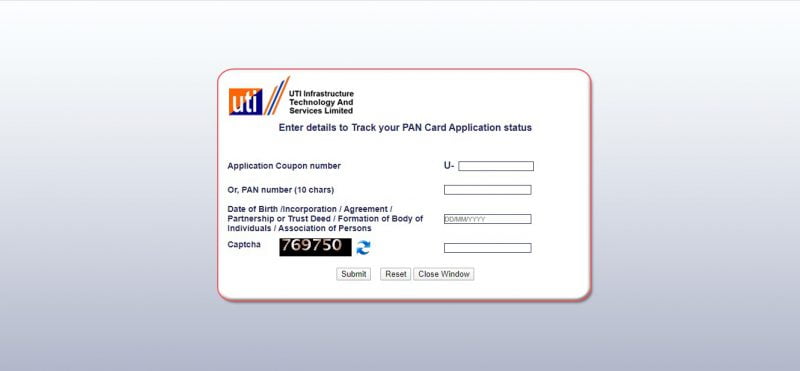 To know how to check PAN card status through UTIITSL website, read the steps below-
Steps:
Enter the Application Coupon Number – The same no. discussed above under the heading application/acknowledgment no.
OR
Enter PAN no. – When the PAN card is submitted for correction/change in the PAN card holder's details. This is printed on the PAN card itself and used as a reference no. to track the updated one.
Date of Birth – Enter the card holder's Date of Birth in DD/MM/YYYY format
Enter the captcha in the box
Click on Submit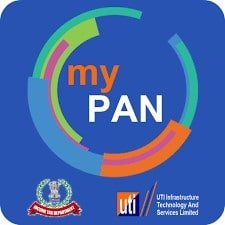 UTIITSL application
UTIITSL has an application 'MyPAN' available both on iOS and Android. Through this application, we can apply for PAN card, track its status or even make corrections. The Home Screen of the app features 4 options. The 'Other Services' option can be used to track PAN status.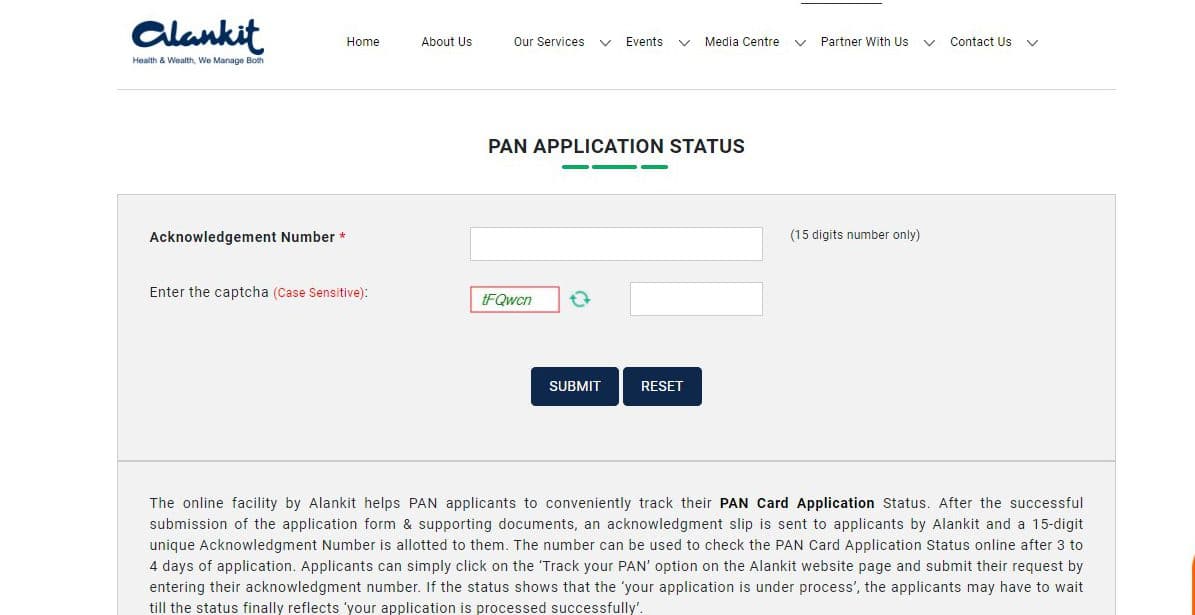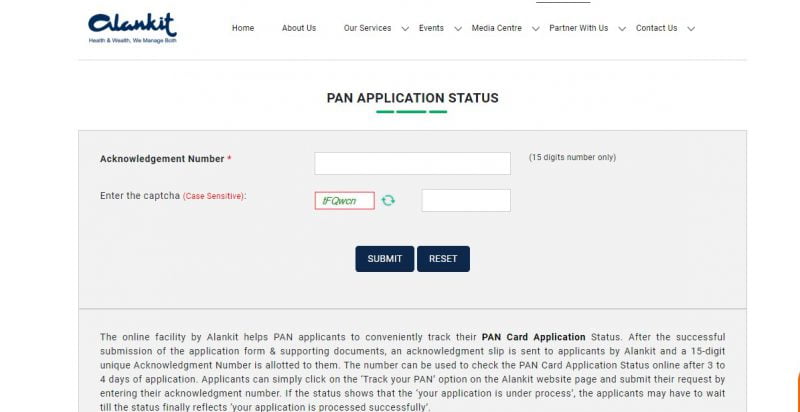 On Alankit, we can track PAN card status through these steps-
Enter the acknowledgment no
Enter the captcha
Click on submit
Since the above two platforms (NSDL & UTIITSL) are the ones authorized by the Income Tax Department to receive and process PAN applications on their behalf. We recommend you to file as well as check the online status of your application through the above sites. Note that Alankit (the last option in the above list) acts on behalf of the NSDL and can be trusted as well.
How to track PAN status without application/acknowledgment number?
We can track PAN status without application/acknowledgment no. on NSDL by these steps:
Choose the second option 'Name' instead of Acknowledgment number
Input Name, Date of Birth
Click on Submit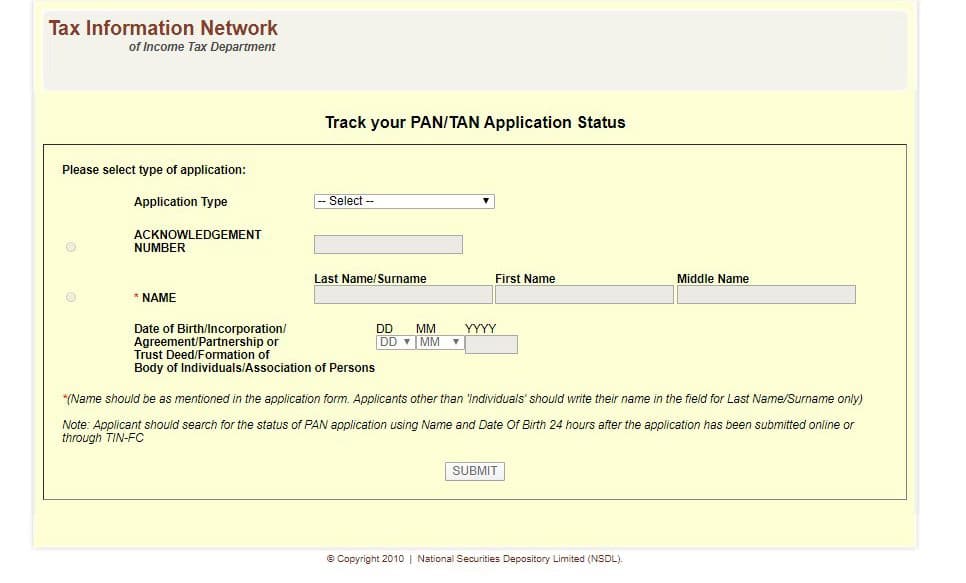 Tracking PAN status online without application/acknowledgment number online through the UTIITSL website is only possible for residents of Rajasthan at the time.
On UTIITSL we can view the status of the application but we would need the Emitra Transaction number. The Steps are:
Input the Emitra Transaction number
Choose the date of birth from the pop-up calendar
Click on Submit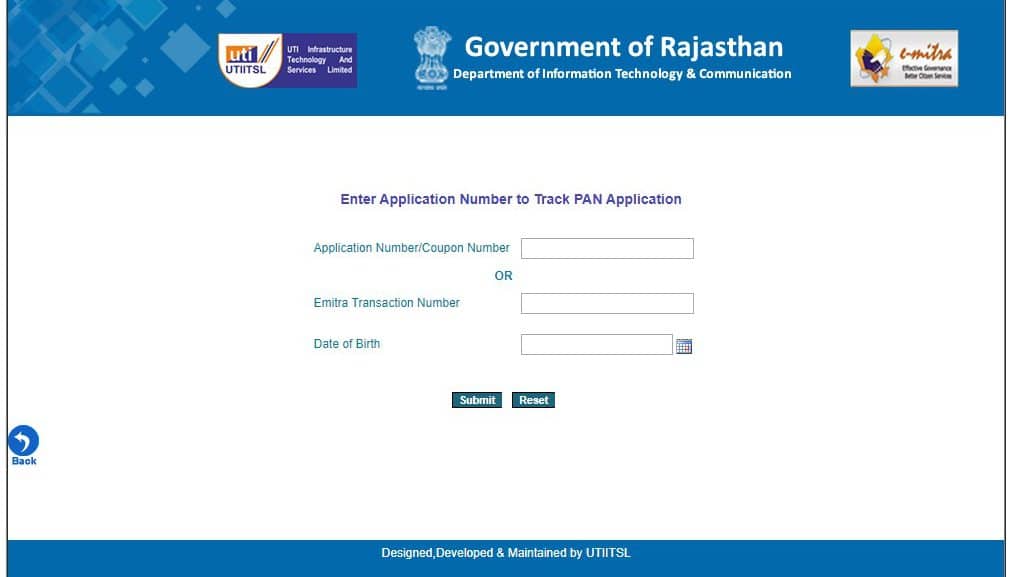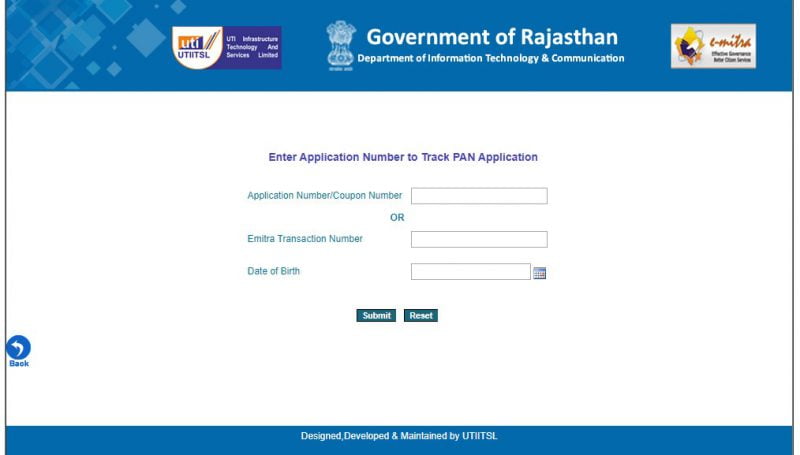 Conclusion
It is necessary to be updated with the status of our PAN application. We should know when it reaches the delivery center and when it goes out for delivery. A PAN card is an important document and we must ensure that it is not mishandled/misplaced or lost in transit. It is important for us to know how to check PAN card status. Keeping track of it is a good way to ensure it is enroute. The government realizes the importance of tracking the PAN card in transit. Keeping that in view it has launched various portals and methods through which we can track their online status.