Flipkart is one of the most used e-Commerce platforms in India. It was recently acquired by Walmart in a multi-billion dollar deal. Similar to the other E-Commerce platforms, Flipkart has contributed massively towards the growth of small businesses in India whether it be retail or wholesale. In a previous article we covered the process of Amazon seller registration, In this article we explain the process of Flipkart seller registration.
Flipkart was founded in the year 2008 by Sachin Bansal and Binny Bansal. It has since evolved as the largest E-Commerce platform in India. It has helped business owners scale their businesses exponentially and as a result its contributions to the Indian economy are of a drastic nature. Flipkart has expanded its services to include delivery in remote areas in India and sell refurbished products. It also features the options to pay bills, recharge, book Flights, Hotel, Bus and pay for insurance.
Documents required for Flipkart Seller Registration
PAN (Permanent Account Number)
Address proof
GSTIN (Goods & Services Tax Identification Number)
Sample signatures
Cancelled cheque displaying the account number, IFSC code and the name of the company/owner of business.
Process of Flipkart seller registration
Registration. Create a seller account on Flipkart on Flipkart's Seller Website
Enter your name email Mobile number and password. Verify your mobile number through OTP.
Click on sign up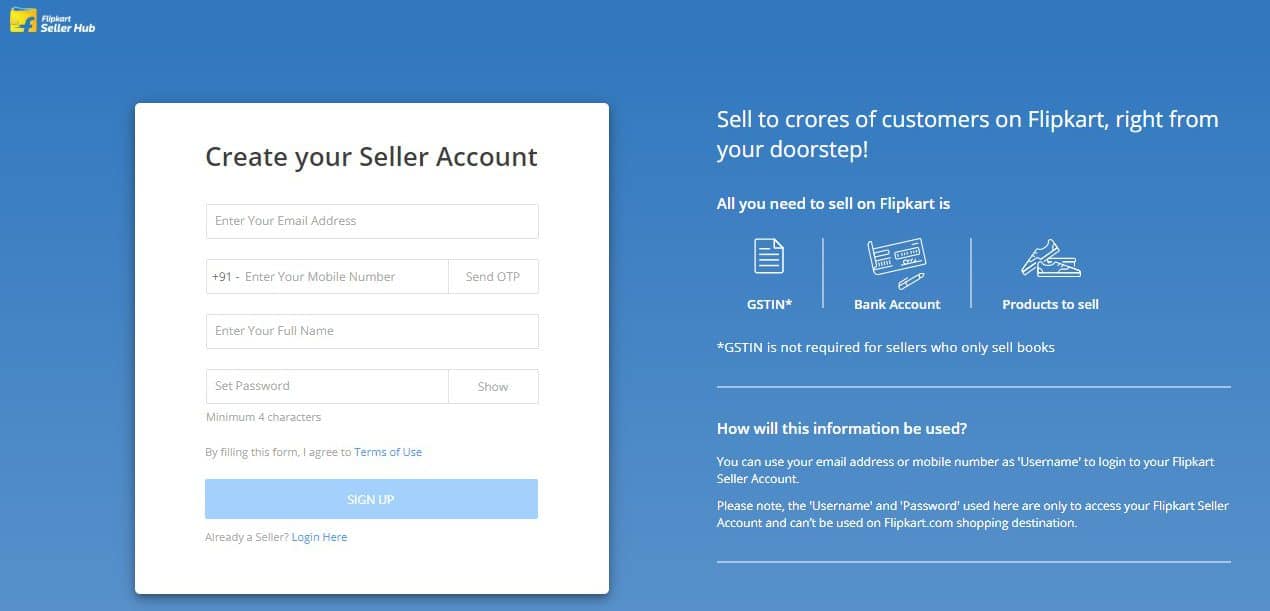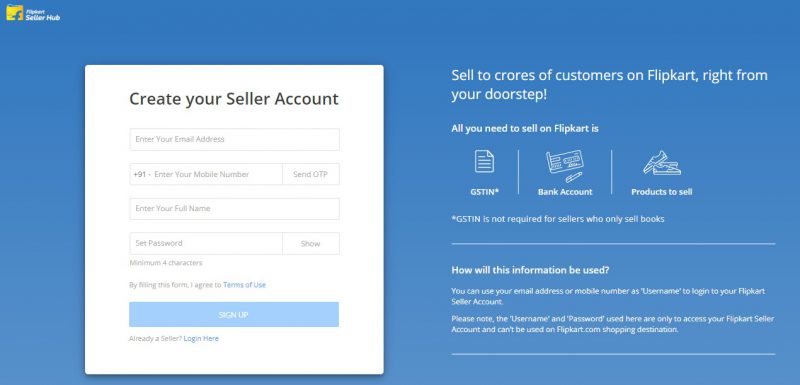 4. Enter the pin code of your pick-up address to see if Flipkart offers pick-up services at your location.
This is the place you conduct your business out of. Whenever an order is placed Flipkart will pick up the orders from the location specified here. Note that if the product you deal in qualifies as a large product then the location you specify might not be within Flipkart's pickup range. Large products such as Home appliances, TV, washing machines will be picked up from certain pin codes only.
Verify your pickup address. Click on continue and Flipkart will show if it offers pickup services in your location.


Then enter the address of your business and click on continue.

Here you have to enter the GSTIN for your business.
If you're selling in GST exempt category then choose I will only sell in GST exempt category
If you're business is pending GST allotment or you're yet to apply for the same. Choose I have applied or I will apply for GST. Click on Continue
Note that you can update your GST post allotment in your Flipkart seller account.

Here you will have to enter your Bank details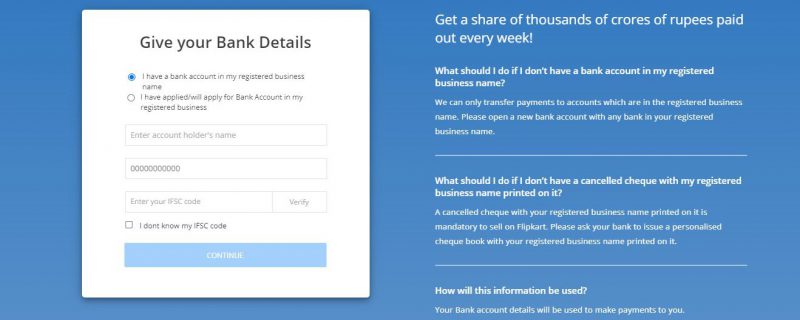 11. Seller Dashboard
On the seller dashboard, you can modify your account details. If you did not add the required details earlier, you can add them here now. GSTIN, Signature, Cheque, Bank Details and Email Verification can be done through the Dashboard. Note that in order to start selling, all the steps on the Seller Dashboard have to be completed. Enter your store name here. The store name can be different from your actual business name. You will also be required to describe your store. Then upload or draw your signature. It is feasible to upload the signature since drawing a signature requires a pen and a touchpad device. Following that, you will be required to fill in your Bank details (if not filled already). List the products your business deals in, and verify your email. Once that is done your seller account will be up and running in no time.
Flipkart seller app
Sellers can download the Flipkart Seller App available on the Google Play Store or the App store. This app features the sales figures and the earnings of the seller. It is easy for the seller to keep track of his business.
Flipkart Seller Pricing
Flipkart charges its sellers a post sale fee for the services it provides to its users. It does not charge any fees outside of a transaction and only takes its cut from the transaction.
Flipkart Charges fees on the following grounds-
Commission fee – It is charged for the exposure that your product gets from being listed on Flipkart. The commission fee is certain percentage of the product. The percentage varies on the basis of the category the product falls in.
Shipping Fee – It is charged by Flipkart for picking up and delivering your goods. Note that the shipping fee differs due to the dimensions (size) and weight of the product along with the location it is being delivered to. Shipping fee differs on size dimensions since larger items occupy more space and pose more transportation problems.
For any product-
below 500 grams, Flipkart charges Rs.30 for Local shipping, Rs.48 for Zonal Shipping and Rs.66 for National Shipping respectively.
below 1 Kg but more than 500 grams, Rs.48 for Local shipping, Rs.69 for Zonal Shipping and Rs.93 for National Shipping.
above 1Kg, for every additional 500 grams up to 3 Kg, Flipkart charges Rs.8 for Local shipping, Rs.10 for Zonal Shipping and Rs.15 for National Shipping respectively.
above 3 Kg for every additional 1 Kg up to 12 Kg, Flipkart Charges Rs.8 for Local shipping, Rs.10 for Zonal Shipping and Rs.15 for National Shipping.
For every additional 1 Kg over 12, Flipkart charges Rs.4 for Local shipping, Rs.5 for Zonal Shipping and Rs.8 for National Shipping respectively.
Cash Collection charge – This accounts for the cash collection charge at the end of every sale.
Fixed Fee – Flipkart charges a small fixed fee for every transaction.
To know more about Flipkart Seller Pricing and to calculate an estimate of your profits, visit Flipkart Pricing Calculator page.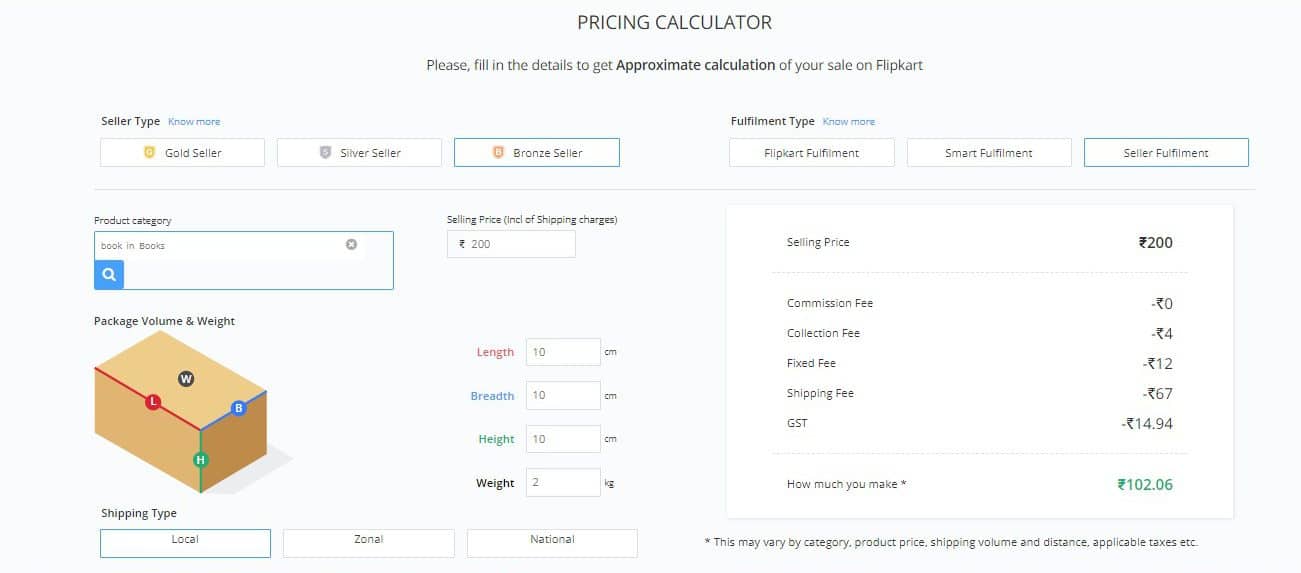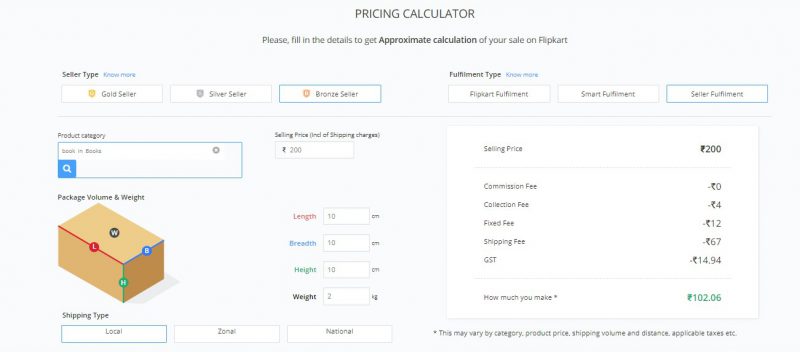 Conclusion
In times of economic uncertainty, such as now, online selling is a boon. Sellers can rely on the internet to grow their businesses. Flipkart requires its sellers to have GSTIN and PAN. Also, LLPs and Private Limited Companies are the most common business entities prevalent on the platform. For registering your own business entity and to complete your business formalities reach out to us at Registration Arena. We help incorporate Private Limited Companies, One Person Companies, LLPs and much more.