Trademarks are movable property. Many companies get their Trademark registered. It can be transferred from one person to another. A Brand or Trademark owner can transfer his Rights with respect to Trademark either by way or Trademark assignment or by Licensing. In India, The Trademark Act, 1999 deals with Trademark assignment as well licensing of trademarks.
Trademark Assignment and Licensing of Trademark:
In case of an Assignment, there is a transfer in the ownership of the trademark registration and in case of licensing, the proprietary rights of the trade mark continue to vest with the original owner, but only few restricted rights to use the brand are given to the third party.
Essential for a valid Trademark Assignment:
Assignment requirements may vary from country to country but the common essentials which are need to be there to make an assignment effective are:
To be in Writing- Such agreement of assignment must be made in writing clearly depicting the right and liabilities of the parties and other information's.
Two Parties- To make an assignment it is important to have at least two parties i.e. assignor and assignee.
Identify the mark to be assigned- It is important to mention the mark which is being assigned in the Assignment agreement.
Consideration- An assignment is made in exchange of a consideration, such amount must be specified in the agreement.
Effective Date- Such agreement of assignment must specify the date from which such assignment shall become effective.
Goodwill- It is essential to mention in the agreement that, whether such assignment is to be made with goodwill or without goodwill.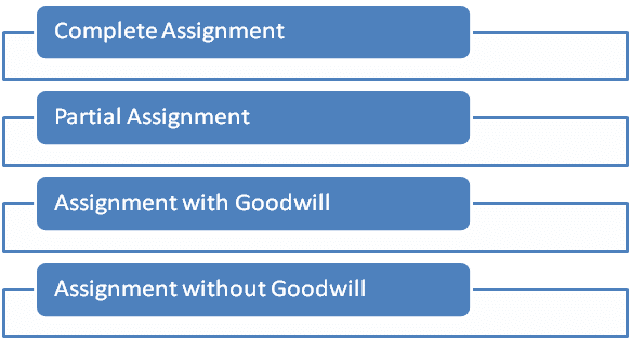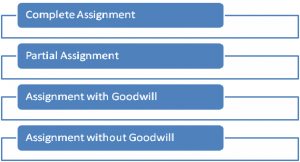 Complete Assignment :
In case of Complete assignment, the Trademark Owner/ Brand transfers all its rights to another entity. Including Right to further transfer,  to earn royalties, etc.  Complete assignment does not allow Trademark holder to retain any Right with them.
Example: "ABC" a registered Trademark holder sells all his Rights to "EFG" by way of assignment, after this the ABC does not retain any right with them.
Partial Assignment:
In case of Partial Assignment of a Trademark, the Trademark holder transfers limited Rights with respect to particular goods or services.
Example:  " X" the proprietor of  a brand used for electronics, clothes and dairy products , assigns the rights in the brand with respect to only dairy products to "Y" and retains the right in the  brand  with respect to clothes and electronics.
Assignment with Goodwill:
In case of assignment with goodwill, the right and value of the trademark as associated with the product are also transferred. The person acquiring or purchasing such trademark can use the goodwill for selling other products as well.
Example: " A" the Proprietor of a brand "Abibas"  relating to shoes, sells his brand to "Q" so that "Q" will be able to use the brand "Abibas" to sell shoes and  as well as any other products it manufacturers.
Assignment without Goodwill:
In case of assignment without goodwill, the Trademark owner Transfers all his rights of the product except goodwill. The owner of the brand restricts the purchaser from using the trademark for any other product it manufactures which is being used by the original owner. Thus, the goodwill attached to such brand with respect to the product already being sold under such brand, is not transferred to the buyer. 
 Example:  "A" is the proprietor of a brand "Puba" functioning in all the areas with respect to electronics, bags and shoes. "A" assigns his trademark "Puba" to "B" with respect to bags, that means "B" has the right to sell  only bags under such mark, if he plans to do some other business like selling shoes, he has to create another brand name of his own.
Restrictions on Assignment of Trademark:
In India the Trademark Act, 1999 puts certain restrictions on the assignment of a Registered Trademark, where such assignment is likely to create confusion in the mind of public/ users.
Such restrictions are:
Restriction on assignments that results in different people using the trademark in different parts of the country simultaneously.

Restriction on assignments that results in creation of exclusive rights, in more than one person with respect to same goods or services.
Assignment of Unregistered Trademark:
 An unregistered Trademark can be assigned or allotted either with or without goodwill of the business that is involved.
Agreements for Transmission:
A Trademark is generally transferred by way of Agreement of Transmission made between parties assigning rights of one party to another. Such agreement should be drafted by keeping in mind:
Rights of the Owner of the brand are not adversely affected by such assignment.
The decision regarding such assignment is to be made with or without assignment of Goodwill.
The purpose for making such assignment.
Fee for Assignment or Transfer of Single Trademark:
        For recording an Assignment:
For pending application: INR 1000 for physical filing and INR 900 for e- filing.
If made within 6 months from the date of acquisition of proprietorship INR 5000.
If made after 6 months but within 12 months from the date of acquisition of proprietorship INR 7500.
If made after 12 months from the date of acquisition of proprietorship, INR .10,000.