It is true that before setting up a business, one needs to consider several factors like sources of finance, a place to set up the business, licences that are required to be obtained, etc. Forming a company is not rocket science. Especially with the help of incentives that the government offers and proper professional advice, Company Incorporation as well as related compliance become easier. Also, it is important to understand the reality of myths about Company Incorporation in India.
Further, according to the Economic Survey 2022-23, conducted by Dept. of Economic Affairs, India has reduced 39,000 compliances to encourage business activities. Therefore, the business environment in India is favourable and there are just some myths that surround the process of Company Incorporation. In this blog, we have highlighted the 10 popular myths and the reality behind them.
Myths About Company Incorporation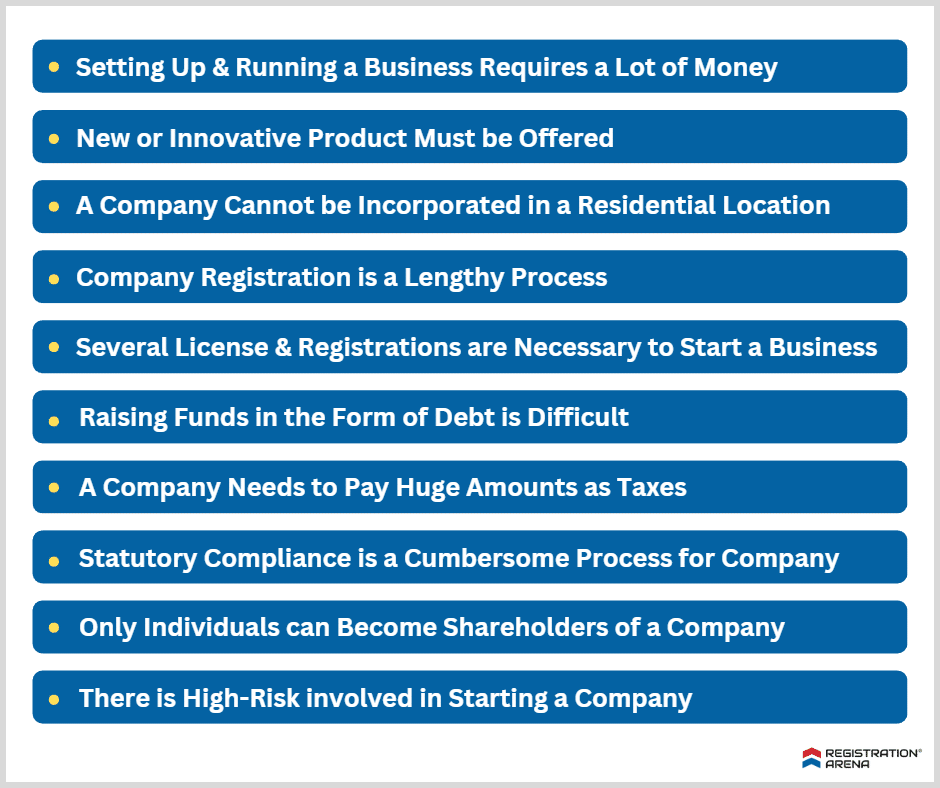 1. Myth – Setting Up and Running a Business Requires a Lot of Money
The most common myth that surrounds Company Incorporation is that a lot of money is required to start and run a business.
Reality – Most of the startups today are initially funded by entrepreneurs or their family and friends. They operate at a small scale with a little amount of capital before going for another round of funding. In addition, the government offers several benefits like subsidies and tax exemptions to new businesses.
Also, the registration cost is very nominal for different business structures along with the benefit of no minimum capital as in the case of a company.
2. Myth – New or Innovative Product Must be Offered
Another misconception that people have before starting a business is that they need to think out of the box or offer a new product to customers.
Reality – Several companies offered an existing product in a different style and became successful. For example – Starbucks recognized that the elite section of society, in particular, the young generation, gives a lot of importance to the brand. They offered an existing product i.e., coffee in a different style, and is now a billion-dollar company.
Therefore, a new product or service is not required to start a business, rather an existing product can be offered innovatively.
3. Myth – A Company Cannot be Incorporated in a Residential Location
It is a myth that a company cannot be incorporated in a residential location and that it must be set up in a commercial place.
Reality – It is lawful to incorporate and register a company in a residential location as well. It is not necessary to look for commercial places to start a company. However, according to the provision of the Companies Act, 2013 that governs companies in India, it is necessary to display the name and registered address of the company at a prominent location outside the premises.
Also, in case the property is taken on rent, a No Objection Certificate (NOC) shall be obtained from the owner of the property. 
4. Myth – Company Registration is a Lengthy Process
It is a general misconception that registration of a company takes a lot of time before it can commence its operations.
Reality – Nowadays, a company can be registered online by filing the required forms and paying up the requisite fees. The only requirements are that a proper name shall be submitted for approval and that all the documents of the directors, shareholders, and the company itself shall be valid.
Therefore, limited time is required to register a company. Once a certificate of incorporation is issued and a declaration is filed by a director, it can commence its operations.
Want to register a company? Connect with us now!
5. Myth – Several License and Registrations are Necessary to Start a Business
It is yet another myth that a company shall obtain licences and registrations as per various laws before it starts a business.
Reality – In India, different laws govern different business sectors. Also, most of the laws require mandatory registration only if a particular threshold is met by the company. For example, GST registration is required only if the turnover of the company exceeds Rs. 10 lakhs in Special Category States, Rs. 20 lakhs in other states and Rs.40 lakhs in case of an exclusive supplier of goods.
Therefore, there is no need to obtain all the licences and registrations at the start of a business unless it meets the specified criteria.
Connect with our experts for all the services related to GST registration.
6. Myth – Raising Funds in the Form of Debt is Difficult
It is often believed that new businesses cannot raise funds in the form of debt as they have less credibility.
Reality – Amongst all the forms of business registration, a company is considered the most reliable one. Also, research conducted by the Federal Reserve shows that in the first two years, startups are funded through debt to the extent of 55%. Therefore, a company can raise funds in the form of debt in the beginning as well.
7. Myth – A Company Needs to Pay Huge Amounts as Taxes
The income tax rate applicable for companies is fixed and higher than other forms of business organisation. Therefore, people develop a misconception that companies need to pay huge amounts as taxes.
Reality – Companies in India are indeed subjected to higher income tax rates. But it does not mean that they have to pay huge amounts in the form of taxes to the government. Several expenses are allowed and can be deducted from the revenue of the company while calculating taxes. The startups that carry on specified eligible businesses can get a deduction of 100% of their profits and gains.
Experts at the Registration Arena can help you in filing income tax returns for your company on time. Get in touch with us now!
8. Myth – Statutory Compliance is a Cumbersome Process for a Company
It is a myth that a company should adhere to different statutory compliances and therefore, it becomes cumbersome to run a company.
Reality – There are indeed several annual compliances applicable to a company like filing annual forms, conducting Annual General Meetings, etc. But the compliances that are required to be done only on the happening of a particular event are more in number, for instance, intimating ROC on appointment or removal of a director.
In addition, the Companies Act, 2013 provides several relaxations to private companies. Also, consulting firms assist companies in proper compliance with the law. Therefore, if managed properly, compliance becomes easier.
9. Myth – Only Individuals can Become Shareholders of a Company
It is a general misconception that only individuals can invest and become shareholders of a company.
Reality – Only an individual doesn't need to become a shareholder of a company. A company itself, in its capacity, can invest in another company. However, the director of a company should be an individual.
10. Myth – There is High-Risk Involved in Starting a Company
It is a myth that there is a high risk associated with incorporating a company.
Reality – Every business involves some amount of risk. As regards a company, it involves less risk as compared to other forms of business organisation due to two reasons. First, it involves the use of public funds and second, it is a legally recognized form of business structure.
Conclusion
It is not a good idea to simply believe the myths that surround Company Incorporation without digging into the roots. Therefore, it is better to seek advice from those who are aware of the process of Company Incorporation. Registration Arena is having a team of experts who will not only guide out about Company Incorporation but will also assist you in running your business smoothly.
Call/ Whatsapp our company registration specialist at +91 8600544411 right away to learn how to register your company in India. Additionally, you can also reach out to us by email at support@registrationarena.com,